Spring Into Summer Home Decor Shopping Haul
This post is long overdue!
As I got ready to makeover our balcony for the One Room Challenge I did quite a bit of shopping from some of my fav retailers. So let's go over everything I bought so you can hopefully get inspired to create some indoor/outdoor Hygge in your home for the warmer months!
From H&M Home and part of my H&M Home Spring Essentials Haul are one set of new cushion covers. They feature greenery motifs & the gold lettered phrase, "Simple is Beautiful".
The gold lettering ties nicely back to the pops of gold in the living & dining rooms and, in the same way, the greenery is threaded through the spaces.
The macrame hanging shelf was the perfect outdoor decorative storage solution.
Using a heavy duty outdoor command hook, the shelf hangs in front of the window, serving as a decorative ornament visible from both inside & outside.
The macrame will play off the garland above the fireplace in the living, again with the goal of keeping the spaces feeling connected at all times in subtle but intentional ways.
I purchased 3 new plant stands in 3 different heights.
Playing around with the heights in this way would be a great subtle touch of juxtaposition.
Each stand ended up showing up differently holding everything from plants to lanterns!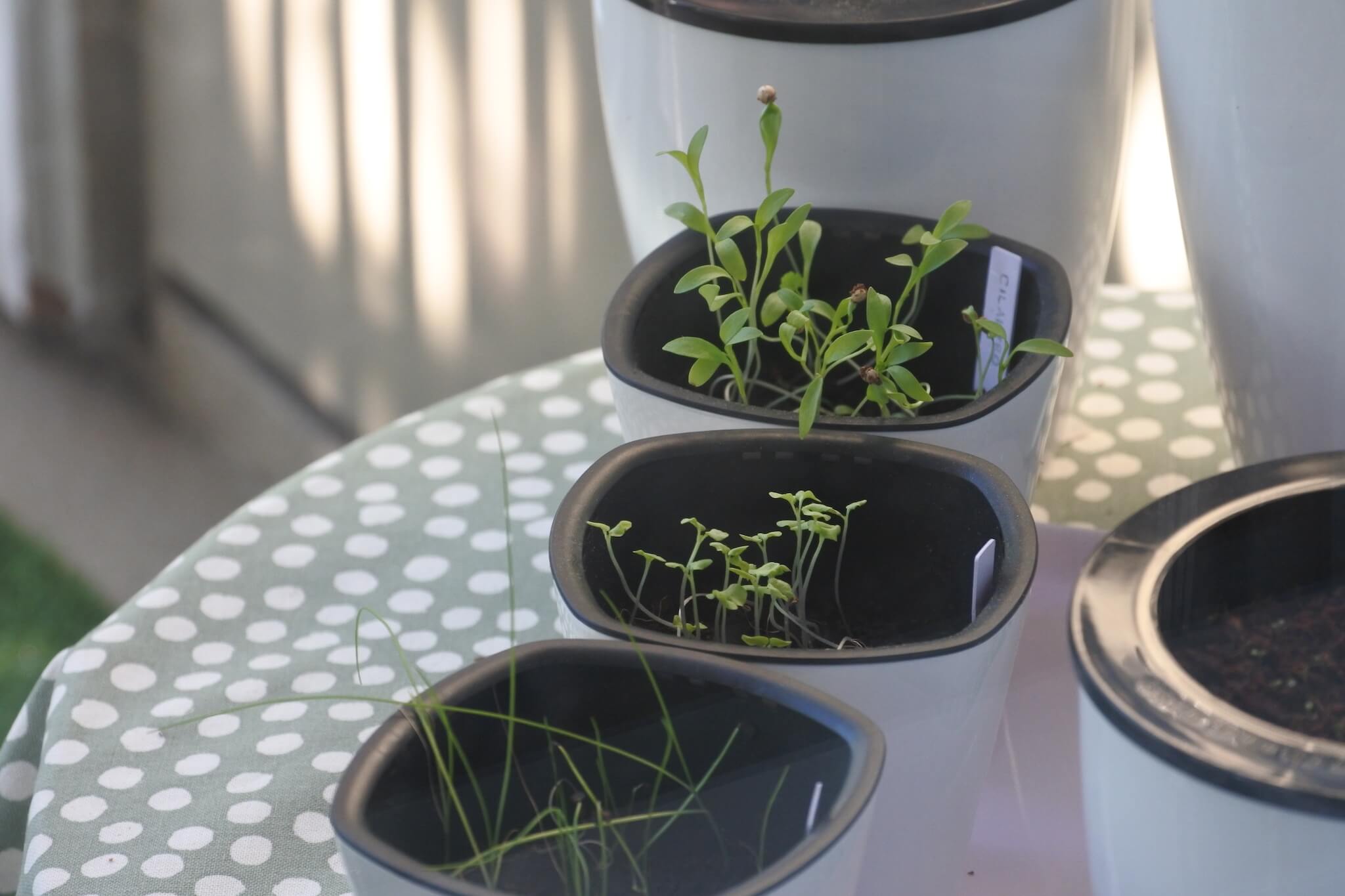 Covering them suddenly made them super functional, as this is now the home for our little herb garden!
This tropical motif indoor/outdoor ottoman, as soon as I saw it, was a piece I knew I had to have in my home. The fact that the upholstery is UV tested and weather resistant was a happy bonus, because that meant I could also use it outside if we needed more seating or wanted a footrest.
SCORE!
While I was almost certain we'd be using it more inside, it has happily been living on the balcony as a foot rest & quasi side table when one of us is out there working on the laptop.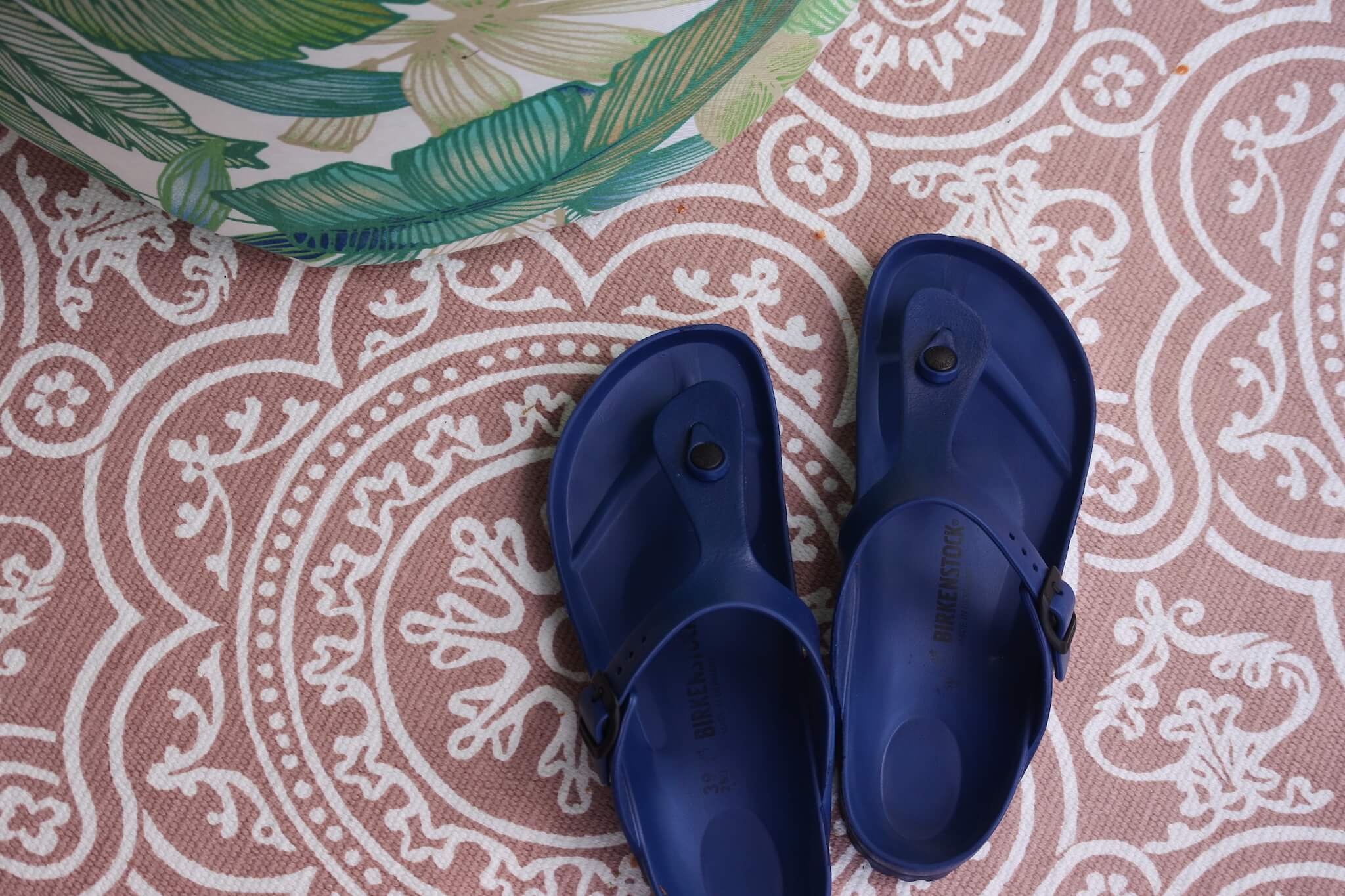 To connect the living room to the balcony a bit more, I got this runner from H&M Home that I'd had my eye on for quite some time.
THE BLUSH TONE WILL COMPLIMENT WHAT'S GOING ON INSIDE BUT ALSO LIGHTEN UP & SOFTEN OUTSIDE A BIT.
This is exactly what I'd done in the living & dining rooms -- I swapped out the deep blue tone accents for blushes, and that immediately changed the vibe of the space. I wanted to continue this onto the balcony. The blue & white rug could come back out in the Fall, so no loss there!
The 'Through the Leaves' 2 Piece Framed Set was one of the very first (if not actually the first) items I purchased when shopping for the season, and to be honest, I didn't even know where they were going just yet.
I waited THREE weeks for these to arrive but it was so worth it.
Each print is framed, canvassed, and finished in a chocolate frame -- so that was one less thing for me to worry about purchasing -- and the quality is SO GOOD!
Seeing these, I knew that no matter where I put them, they provided the perfect outdoor pop in the house. I ultimately decided to hang them on an empty wall flanking the fireplace, above my daughter's toy trunks, really creating a simple, not too fussy little vignette.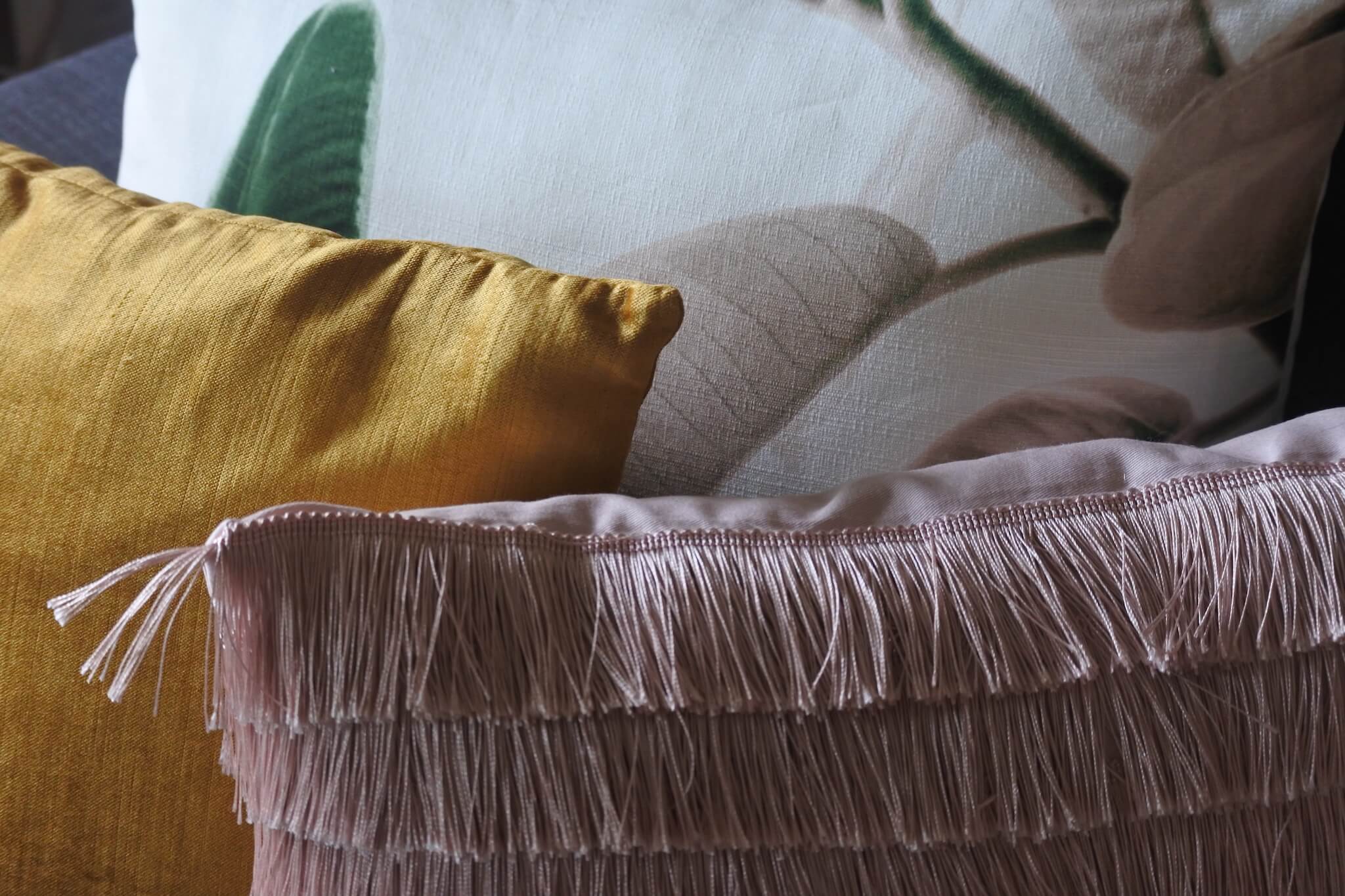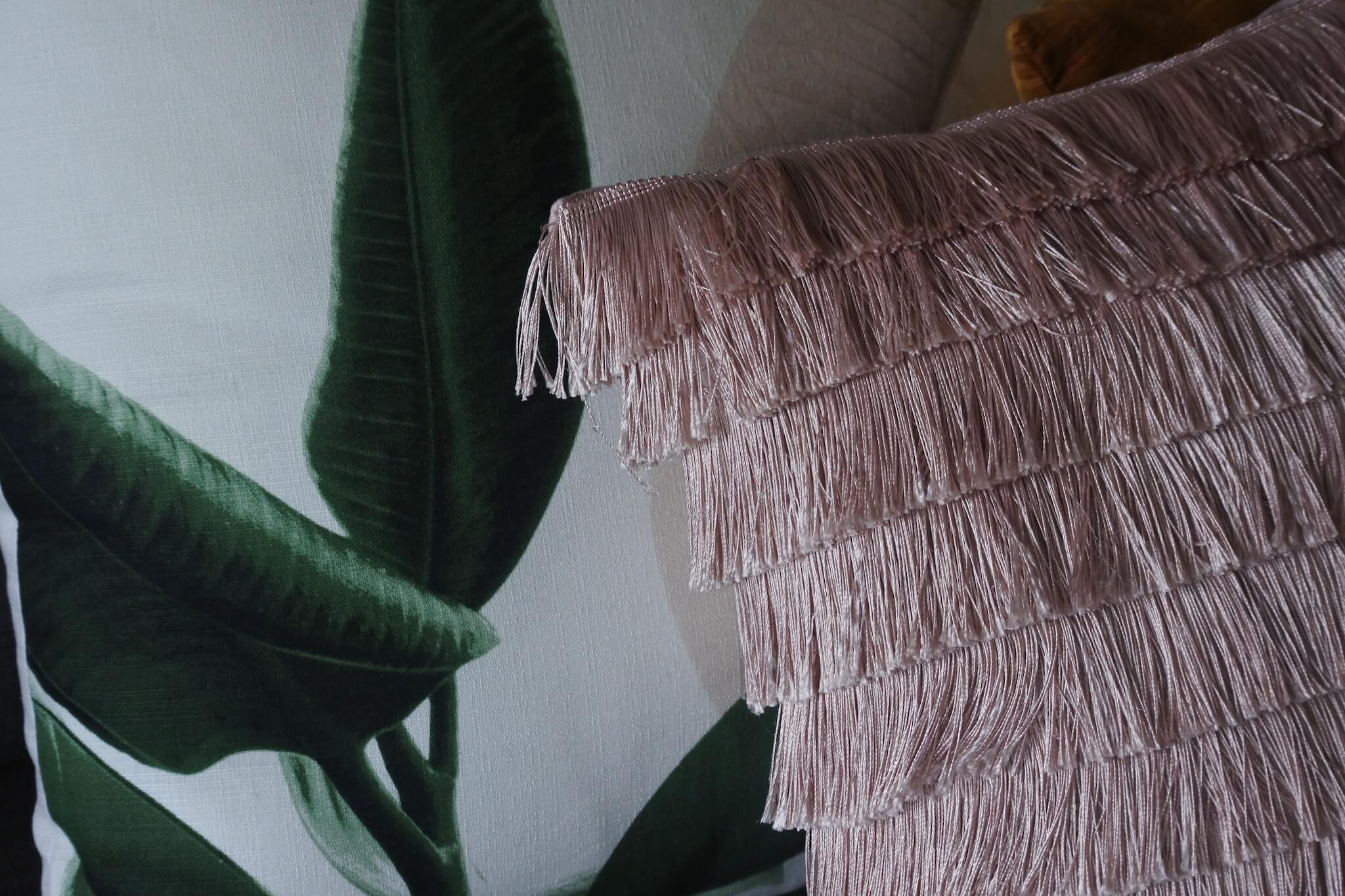 Like the other covers, they provide the PERFECT pop of greenery against the rest of the backdrop of the living room, tying everything together.
This small jute storage basket became an unexpected favorite accent because while I knew I loved it when I bought it, I was still undecided as to what to do with it -- #sorrynotsorry.
I had the crazy idea, since I wanted to switch pots anyway, to place my faux fiddle leaf tree in it & it is the PERFECT PAIRING! Immediately softened up the entire appearance of the tree atop the plant stand.
The texture, the color -- all very Hygge!
The rest of the haul came by way of an unexpected trip to HomeGoods, which is always a good time!
If you know me, then you know I SELDOM buy pillows, and instead, I'm a pillow COVER girl so that I have the flexibility to switch their looks whenever the mood strikes me.
But I saw these and knew I had to have em and I was right -- they work so perfectly up against the greenery motif pillow covers!
Perfect balance!
To really round out all the pops of greenery inside the house, I picked up to new faux plants -- aside from the herb garden, I will not be taking any chances with plants.
One features a subtle yet visible navy blue type of textured pot while the other is in a 2 tone blush pot.
SQUEEL!
Because the balcony is for my family, I couldn't resist this toy watering can. My daughter always wants to help us "garden" and the color combination would fit the aesthetic so it was a win/win kind of buy.
The bright colors and blossom motif made it a great fun addition to the balcony!
I don't know that a HomeGoods trip is ever complete without getting things that you COMPLETLY never planned on getting, but that was certainly the case here, as I picked up not 1...not 2...not 3...but technicaly FIVE new books!
While not a very exciting buy, I for one was stoked to find a little oil dispenser since I'd been looking for one for some time -- it was plain and just the right size!
And also for the kitchen, I found the prettiest set of blush pink kitchen towels that read in gold foil print, "Namast'ay for a drink!"
The color combo was perfect aesthetically and I could tell from handling them that they'd have great absorbency.
But rounding out the haul were probably the outdoor dining & entertaining finds that I scored -- a tray, a set of 4 app plates, a set of 4 high ball cups, and a dozen stirrers.
All the pieces, while not a set, compliemented one another perfectly since they all featured some sort of tropical summer inspired design. What's better, is that they also paired really nicely with the tablescape & refresh I'd just done in the dining room -- from the cocktail themes to the bright pops of color.
After pulling everything together, I immediately thought to myself, "man I wish I entertained guests more!" just to be able to show off & share all my new fun finds as a hostess.
But no worries -- my husband, daughter, and I are doing just fine getting into the summer spirit with all my new buys and that's really all I could ask for!