One Room Challenge Week 3: White Glove Delivery & Storage
It feels like this round of the One Room Challenge is flying by because it doesn't feel like 3 weeks but it also feels weirdly slow because it's not my home. Like with any design project, I'm on the client's timeline more than I am on my own, but for this we did have a schedule we needed to stick to.
This week's agenda — get delivery ready!
At the start of the One Room Challenge, we scheduled our white glove delivery with Apt2B and with that date in mind, she knew that things would need to be purged & disposed of before then to make the delivery process even easier.
What is white glove delivery?
Simply put, white glove delivery means that your items get delivered to you, placed in your room of choice, and assembled for you. When done, all the debris is removed. Apt2B offers a free delivery option — entryway delivery for larger items — but for a flat rate of $99 you can get the white glove service option.
This was ideal for us because this meant my client wouldn't have to assemble her sofa or bed when it arrived, and the delivery team would remove any and all packaging materials for her. I could see it now — even on a ground floor apartment, it would be like that iconic "Pivot" scene from friends and would end just as badly!
The best part was that we could schedule the delivery time — as opposed to sitting around and stalking tracking the delivery. She chose a date she'd be home, confirmed the delivery window, and then simply has to wait for the day of confirmation call. This also guarantees the furniture would arrive before me… in one piece… by professionals.
That's worth $99 if you ask me!
With delivery scheduled, this meant she knew exactly how much time she had to get rid of things!
Time for the purge!
A little bit at a time she she's been tackling everything from clothing to product, while over here on the West Coast, I've been tweaking the design for her storage needs — brainstorming the best storage and organization solutions that would serve both function and design.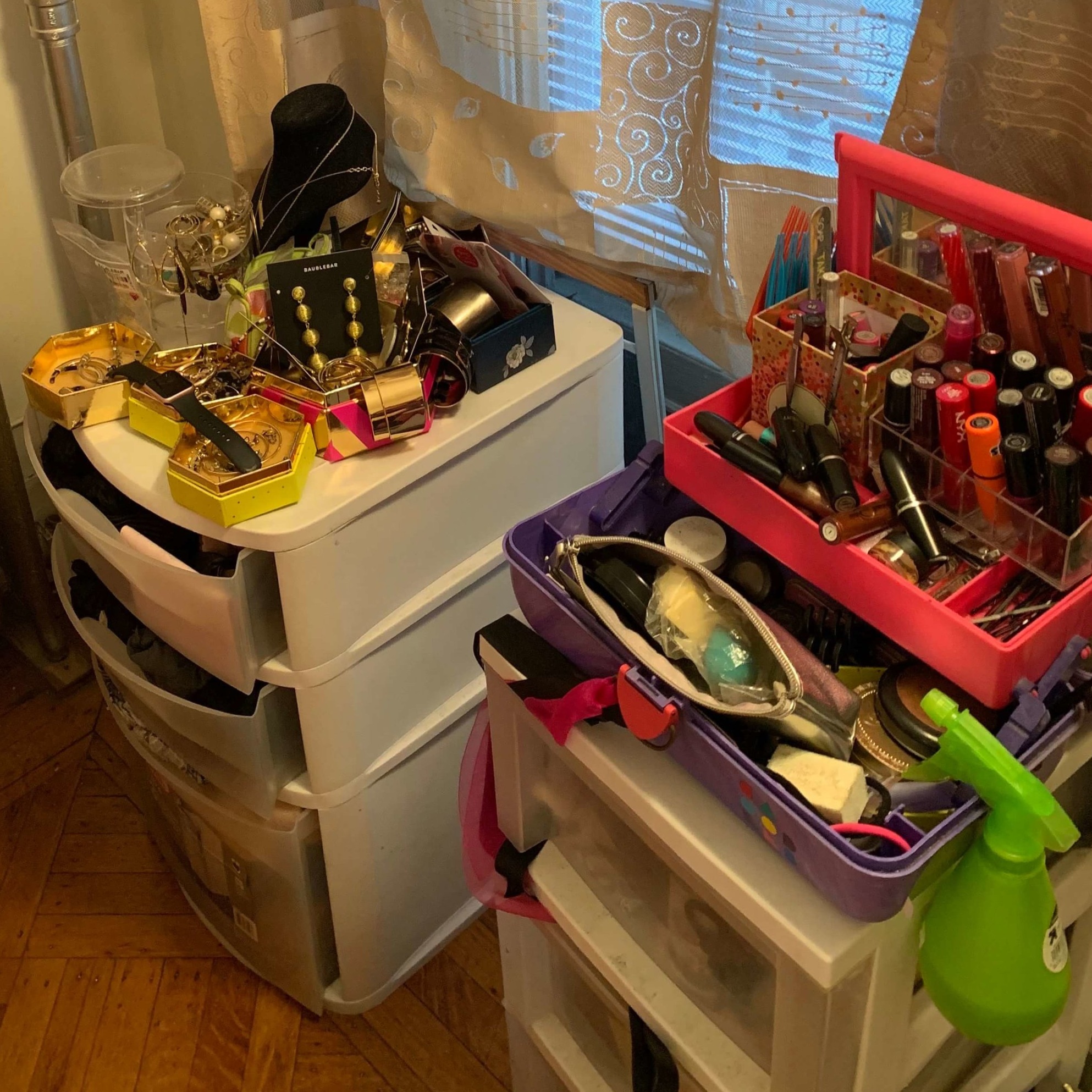 But here's the thing about living in NYC — sometimes it's not that you have too much stuff, so much as there's literally just no where to put it all. Having lived in a NYC studio apartment myself, I can say I was super blessed to have had an apartment with phenomenal storage — a walk-in closet and a step-in closet — in addition to available storage units in the building if I needed it. That's not the norm! And that's not this studio. With one small "closet" (because I'll be damned... well you'll see for yourself) and a loft space, storage is definitely where they sacrificed in this space.
That's when it hit me — in a place like NYC, half of the stuff we're needing to store isn't stuff we need year round. Heavy coats. Tall boots. Holiday decorations. So much of the stuff cluttering the corners of our homes are literally just in the way until we need em. I know that here in our condo, having the storage closet on our balcony solves that problem. And while the loft space in her studio could do the same for her, I wanted to reserve that space for more urgent storage — suitcases, linens, etc.
That's when I looked into valet storage solutions.
I know her and so I know the last thing she'd want would be to rent a storage unit that she would have to shlep things to & from. With valet storage, however, someone would drop off the bins then pick em up when ready, plus you could request one or all of your bins as needed, never leaving your house!
I mean... how dope is that?!?! Especially for a single girl in NYC with no car!
I partnered with Simplify Storage in NYC to give her the peace of mind of keeping the things that needed keeping without having to see them all the time. No more shoving things under the bed or into corners. Especially with winter finally gone, she could pack away all those coats & boats, and not think about or see em for months! We went with the option of 5 bins (27"x 17"x 12" bins) at $30/month — SUBSTANTIALLY more affordable than renting a storage unit, that you then have to get to and from. And remember how I said scheduling the furniture delivery gave us a hard deadline for getting rid of things?
With Simplify Storage, I was able to schedule when to drop off the bins and when to pick em up!
She could purge, donate, trash, sell... whatever... making it so much easier to assess everything that's left. If you listen really, really closely, you can actually hear me squealing, that's how excited I am about this.
If you live in the NYC area and struggle with storage, you should definitely check out Simplify Storage. With their valet bin storage, you get 5 bins at $30/month and additional bins at $6 per bin/month. The initial drop-off and pick-up is FREE with additional trips for deliveries& retrievals at at flat $20/trip rate. And I can't forget the 3 hour turnaround bin retrieval.
Talk about convenience and peace of mind!
And if you're needing to store more than just clothes, you can totes take advantage of their full units and use my code to save $30. Trust me when I say that resources like Apt2B's white glove delivery service and Simplify Storage's valet storage options are an asset for a designer like me that works virtually — setting everything up for my client's convenience is critical when not working face to face.
This time next week, I'll be arriving on site (totally rare form for me by the way) to pull everything together but between now and then I'll be sharing real time updates on the delivery process and valet storage over on my Instagram stories so come say hi to me over there!
see more of my transformation